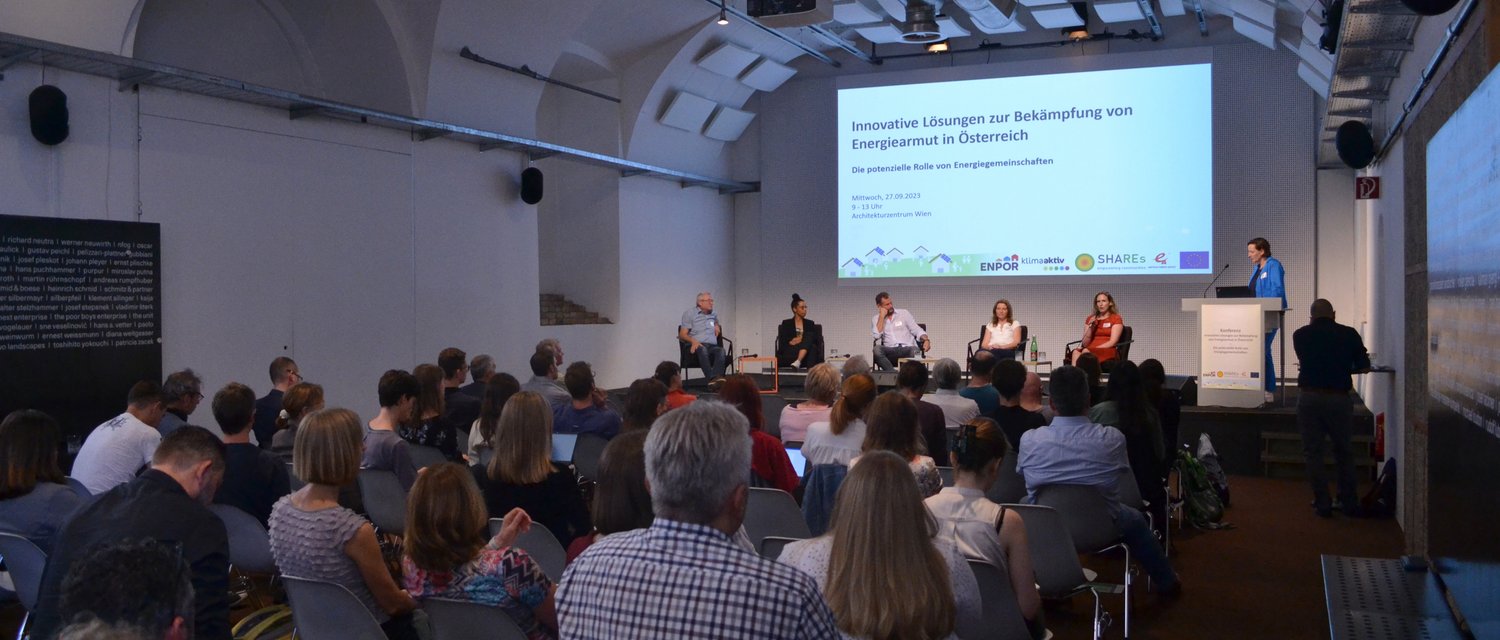 Report on the Conference: Combating Energy Poverty in Austria
The past few years have been marked by a series of severe crises (pandemics, energy shortages and high inflation), which have left certain population groups particularly at risk. With that in mind, we discussed measures to promote renewable energies and fight energy poverty at the conference and examined what role energy communities can play in this context. Franz Angerer, managing director of the Austrian Energy Agency, kicked things off with his presentation. As a former head of the Department of Environmental and Energy Management in the Lower Austrian state government, he talked about the efforts of the Lower Austrian Energy Advisory Service to reach more low-income households. The success began with the cooperation with a social institution.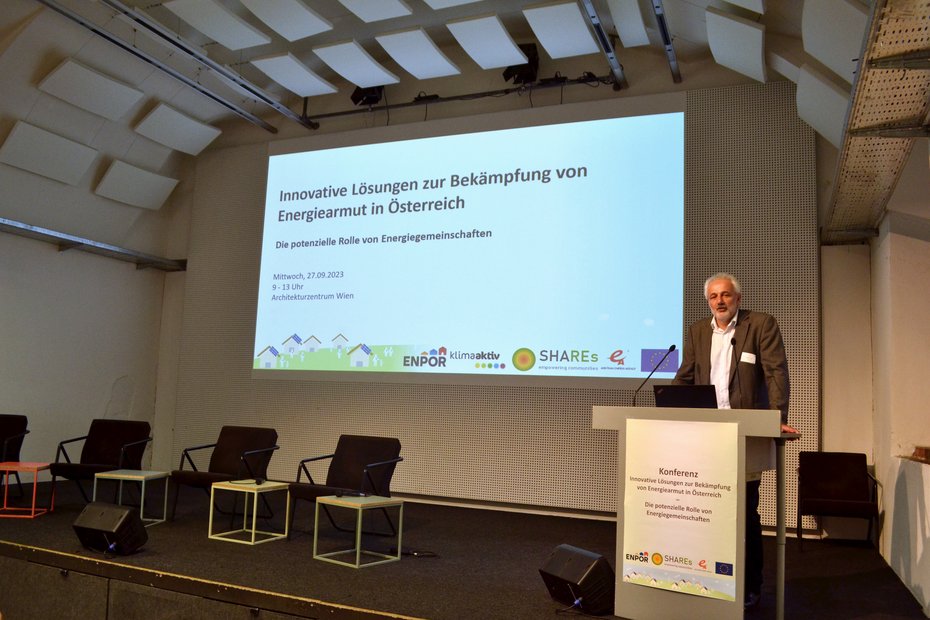 Energy Poverty – A Multidimensional Problem
Access to clean and affordable energy is a basic requirement in everyday life. It is natural for many people to reach for the coffee in the morning and take a hot shower afterwards. However, for the 17 per cent of the Austrian population at risk of poverty or exclusion, even that can become a financial challenge, says Sandra Matzinger, officer in the Economic Policy Department of the Vienna Chamber of Labour.
Without energy, participation in modern social life is all but impossible. Households at risk of poverty often live in dwellings with poor thermal quality (or high heating needs) and are equipped with inefficient appliances. Besides short-term solutions, structural changes are needed, which in turn require comprehensive data on energy poverty.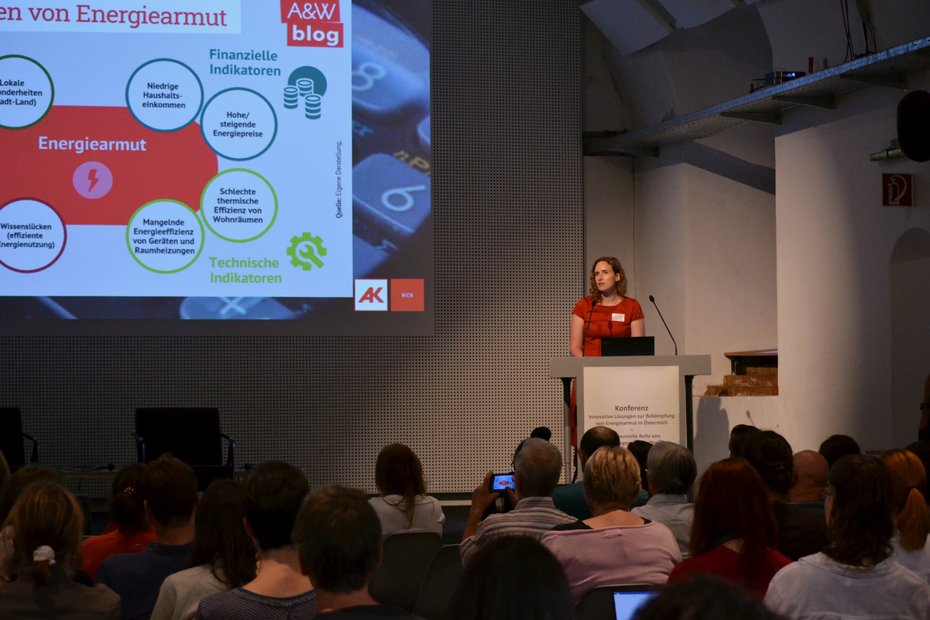 In order to combat energy poverty, it is necessary – in keeping with the motto "knowledge is power" – to provide people with energy knowledge. Kerstin Schilcher from the Austrian Energy Agency heads the ENPOR project, as part of which her team developed information materials together with DIE UMWELTBERATUNG (German for "Eco Counseling", Austrian NPO), which explain in just a few words and clear images what is worth knowing about energy in one's own household. To convey this knowledge in a practical way, the programme "Social energy counselling" for social workers was additionally launched by klimaaktiv (Austrian climate protection initiative).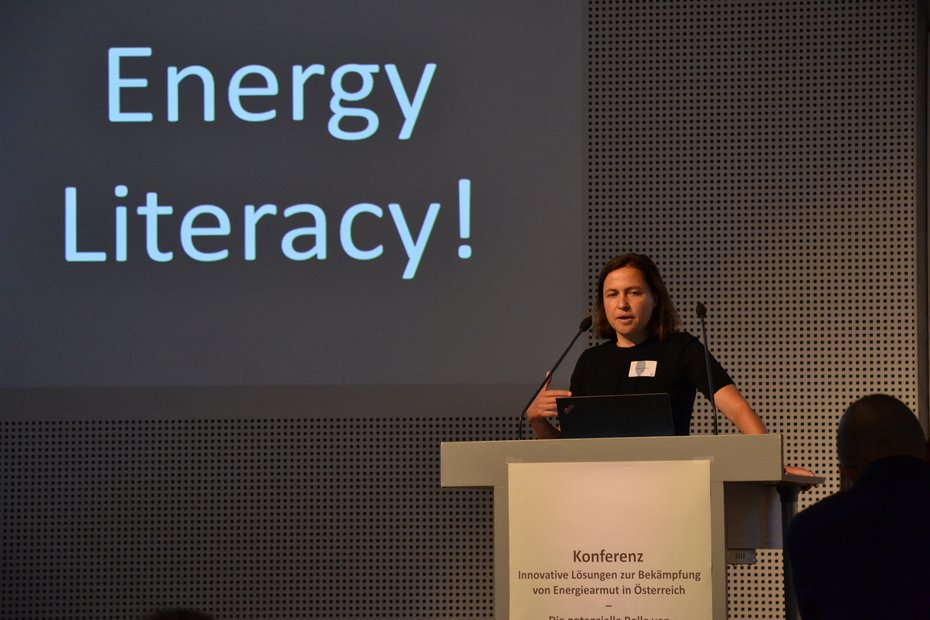 A journey into the everyday life of a counsellor
Eva Lems is head of the Office for Energy and Environmental Affairs and offers energy counselling for households affected by poverty. She took the audience on a short trip into the everyday life of the counsellor: The energy counsellor visits a family with five children who are struggling with high energy bills. To find the reasons for the high energy consumption, the counsellor talks to the family about their habits. In the example, all children bathe several times a week. Together with the children, they decide to switch from bathing to showering and thus choose a much more energy-efficient option. They also agree to use an hourglass so that the children can have fun keeping track of the duration of the shower. In this way, the family's hot water consumption and therefore its energy costs can be significantly reduced.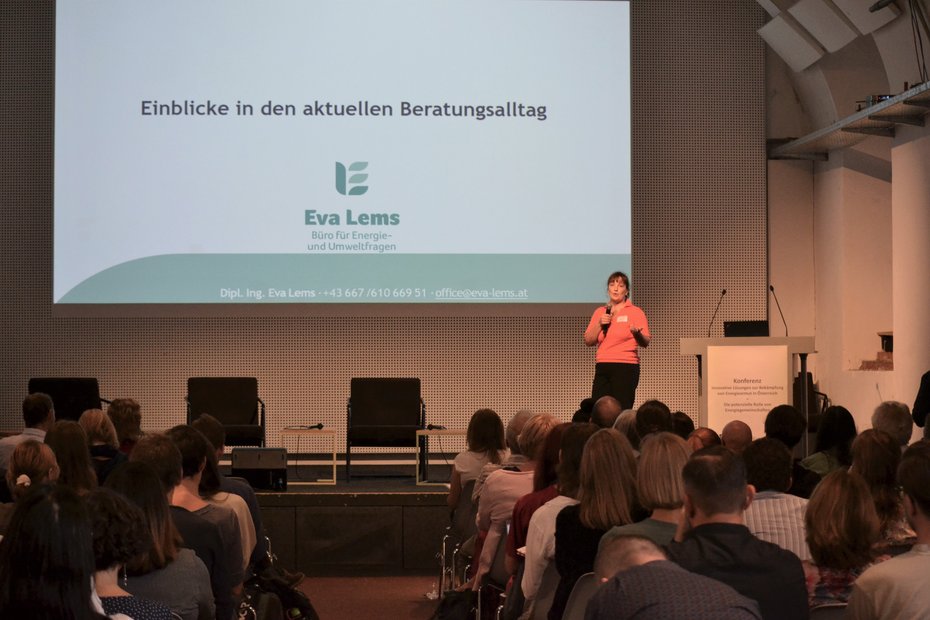 Understanding one's energy bills and knowing how to manage consumption makes households feel in control. Eva Lems recommended that all households keep monthly energy records using data from their electricity and gas meters. She also said that it could be helpful to involve older children in particular as this could increase the acceptance of measures.
Energy Communities as a Solution
Energy communities are one way of supporting households affected by energy poverty, for example through socially adjusted prices.
Eva Dvorak, head of the coordination office for energy communities at the Climate and Energy Fund, reported that of about 600 communities surveyed, two-thirds cited combating energy poverty as their motivation for establishing an energy community. Some solidarity energy communities have already been formed in Austria, she said, and presented five of these innovative projects.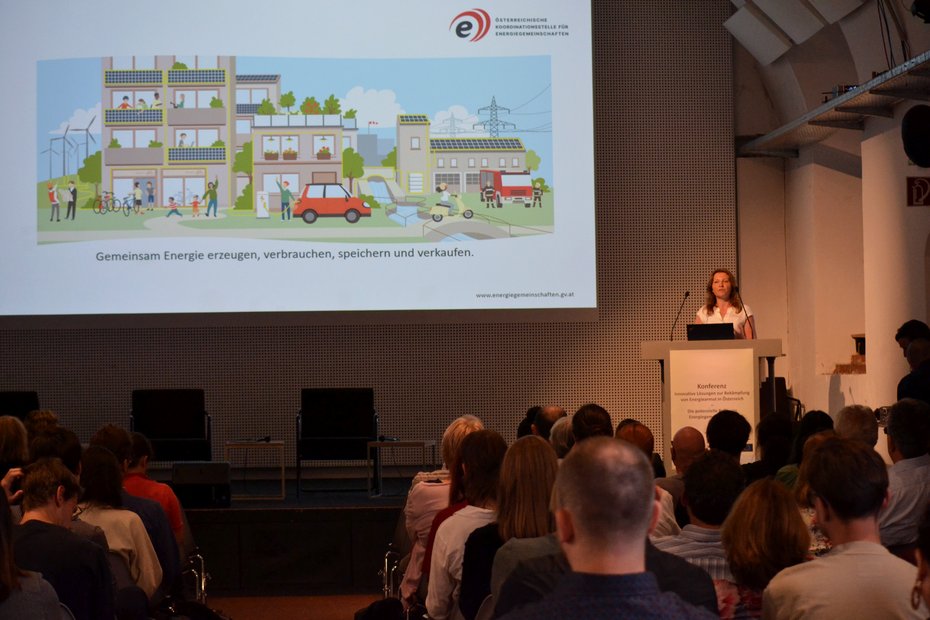 Finding Members
"As diverse as people are, so are the arguments why someone should participate in an energy community," said Angela Holzmann, head of the SHAREs project at the Austrian Energy Agency. For this reason, the project team identified fourteen target groups and created short, concise instructions to reach them. The messages formulated are adapted to the target group in each case – for example, the focus can be on financial benefits at one time and the use of green energy at another.
Low-income households pose a particular challenge in this respect, as they not only have few financial resources, but often also little time even to consider the topic of energy communities. For this reason, formats that are as easily accessible as possible are needed to enable people at risk of poverty to participate in such communities. Founders of energy communities can find professionally designed information and so-called "white-label" material, such as customisable flyers or event invitations, on the Austrian platform https://energie-teilen.at. It was created based on the SHAREs blueprint, where you can find the same materials in English.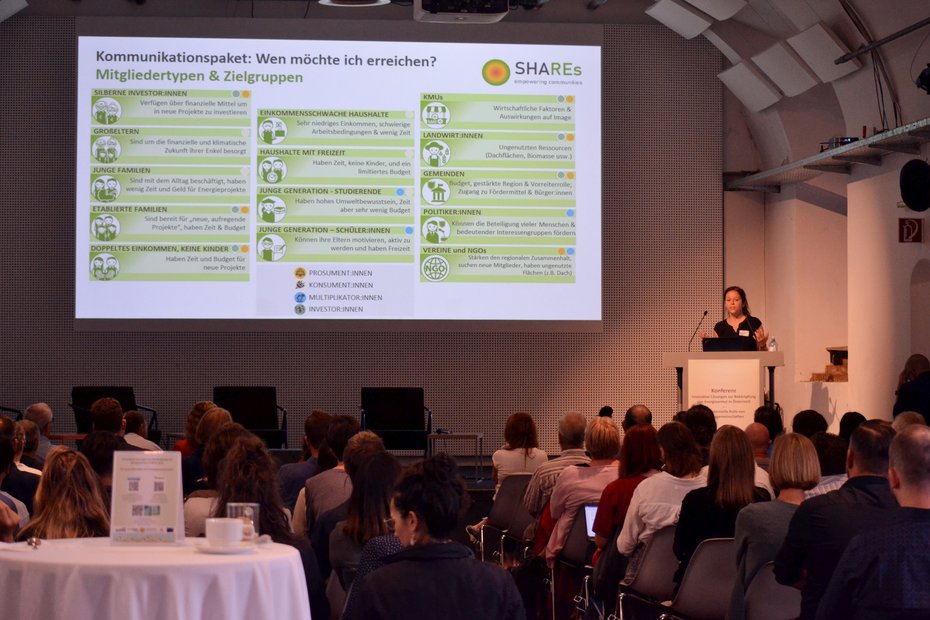 Reports from the Practice of Solidarity Energy Communities
Christian Hummelbrunner, a pioneer in the field of solidarity energy communities, then took to the stage. The manager of the Traunstein Climate and Energy Model Region (Upper Austria) reported from practical experiences and emphasised that there are still some open questions to be clarified and some hurdles to be overcome to create solidarity energy communities. For example, the introduction of a cap on the amount of energy that can be purchased at a social tariff and how high this cap could be is currently being deliberated. The level of the tariff itself also leaves some room for discussion. Hummelbrunner also pointed out that a very careful approach must be taken in communication. On the one hand, one does not want to spark a jealousy debate because of lower prices for selected families; on the other hand, households need to be informed in detail about realistic options, for example, regarding the exhaustion of quotas for the social tariff.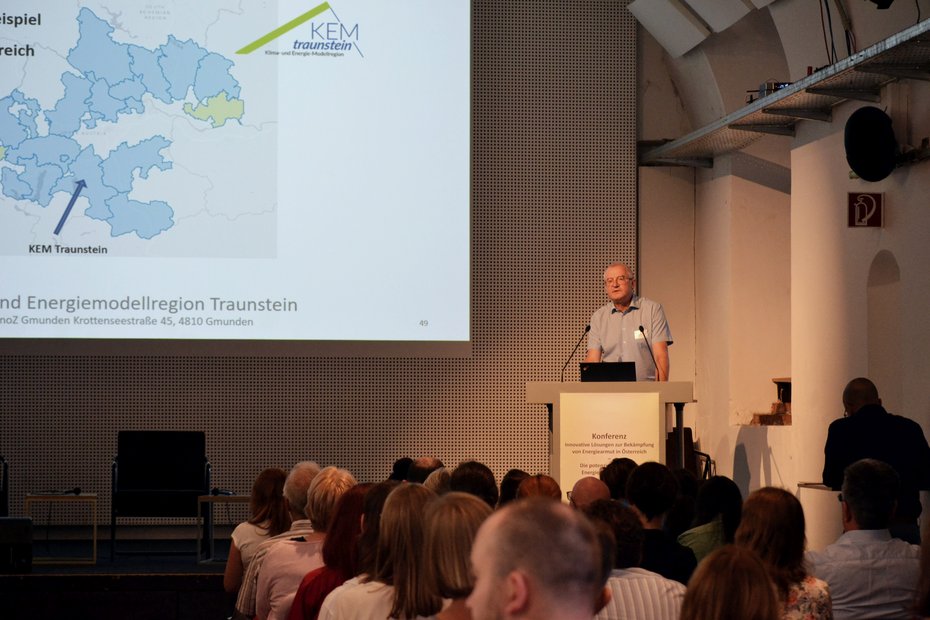 Panel Discussion: Exchange between Experts
Moderator Hemma Bieser, director of OurPower Energy Cooperative and partner in the SHAREs project, welcomed some previous speakers to the panel as well as Caroline Nwafor, programme manager at the Climate and Energy Fund with a focus on energy poverty, and Imre Siska, head of Individual Spontaneous Assistance at the Austrian Red Cross.
Caroline Nwafor insisted above all on structural changes to solve problems in the long term. In parallel, short-term, low-threshold measures such as energy-saving tips or the replacing appliances make sense, she said.
As head of the Red Cross's Individual Spontaneous Assistance, Imre Siska focused on finding tailor-made solutions in situations that threaten families' existence, such as evictions due to outstanding rent and energy payments. He also highlighted the important exchange between social workers and energy supply companies: energy knowledge should be imparted in the social sector and, for example, ombudsman offices should be set up for those affected by poverty in the energy sector.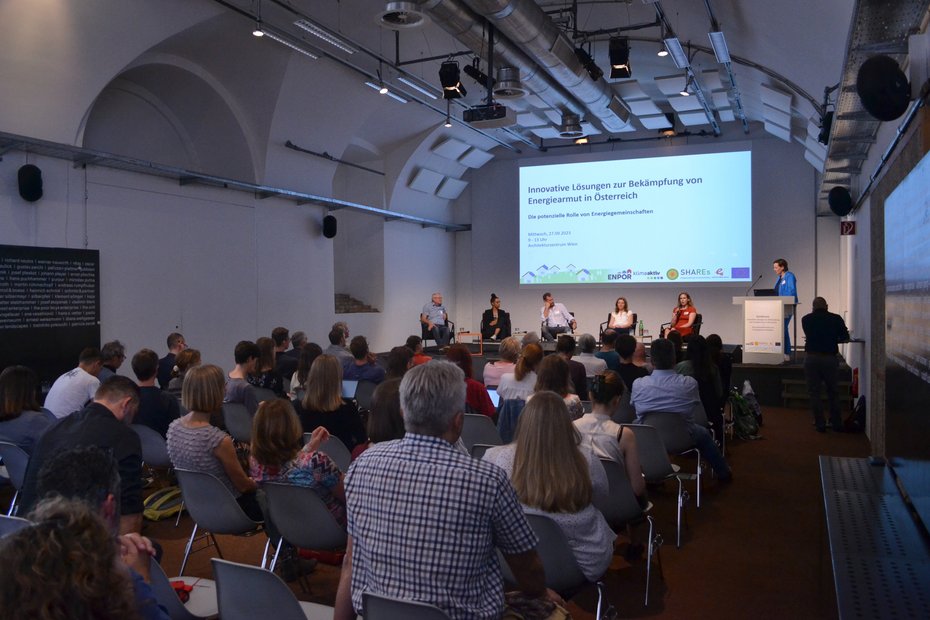 Summary and Outlook
The entire event was visually recorded through drawings by Camilo Melgar. The key messages were illustrated through Graphic Recording and summarised by Camilo Melgar at the end of the event.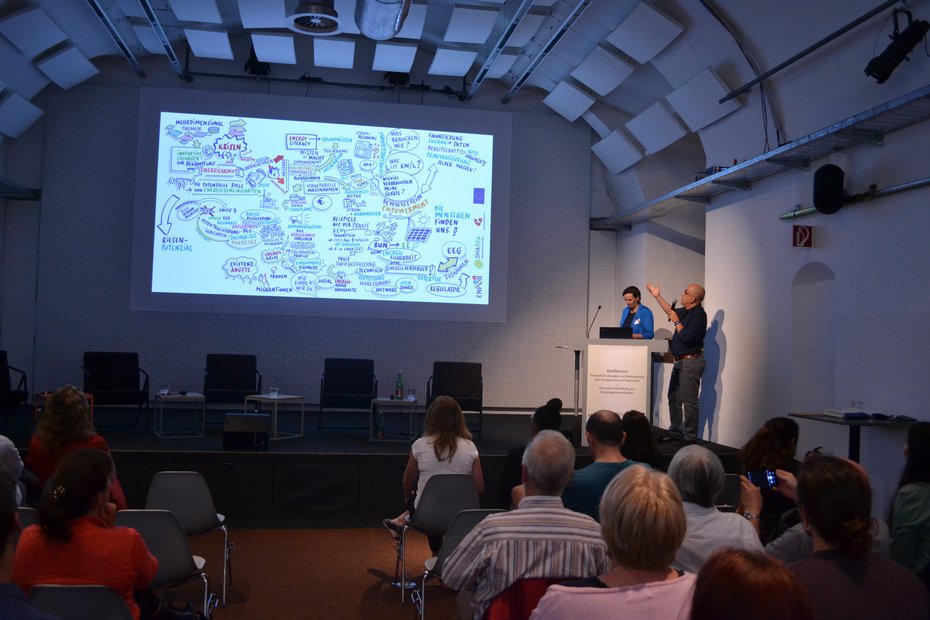 The experts agree that energy poverty is a complex cross-cutting issue involving a large number of stakeholders. In addition, data on energy poverty in Austria is currently insufficient and need to be improved to tailor concrete solutions and make them more effective. With the model of energy communities, however, municipalities and citizens have a tool in their hands that can be used to ensure not only their own supply of renewable energy, but also support fellow citizens affected by poverty. Solidarity energy communities have proven to be an innovative approach with high potential that now needs to be put into practice.